Institute

Thoracic Surgery Clinic
Thoracic Surgery Clinic
The Thoracic Surgery Clinic of the Institute for Pulmonary Diseases of Vojvodina has the capacity of 60 beds, seven of which are in the Intensive Care Unit. About 1,300 surgeries in total, and additional 400 in local anesthesia are yearly performed at the Clinic. The total of 40,000 surgeries have been performed at the Clinic since its foundation.
Currently, the Thoracic Surgery Clinic employs seven specialists in thoracic surgery, one specialist in general surgery, and two surgeons specialising in thoracic surgery. A complete operative thoracic surgery programme has been carried out, including surgery of the trachea and large airways, surgery of the lungs, pleura, mediastinum, chest wall, oesophagus, diaphragm, thyroid, and chest trauma.
In addition to already accepted algorithms for pleural empyema treatment and lung cancer operability assessment (each patient with established lung cancer diagnosis is submitted to mediastinoscopy first, then to video-assisted thoracoscopy and thoracotomy with a respective resection), bronchoplastic or angioplastic resections have also been introduced in the routine practice of the Clinic. Routinely performed surgical procedures also include video-assisted thoracoscopy aimed at diagnosing pleural effusions or lesions in the parietal pleura or the lungs, management of pneumothorax, pleural empyema, chest trauma, pericardium fenestration, pneumoreduction in bullous emphysema.
Operability assessment and further follow-up of the patients with colorectal carcinoma lung metastases are carried out within the multicentric clinical trial PulMiCC.
Minimally invasive surgery (video-assisted thoracoscopic atypical lung resections or lobectomies), which has been introduced in the routine operative programme over the last five years, reflects our permanent keeping in touch with the current world trends in thoracic surgery.
Structural Scheme of the Clinic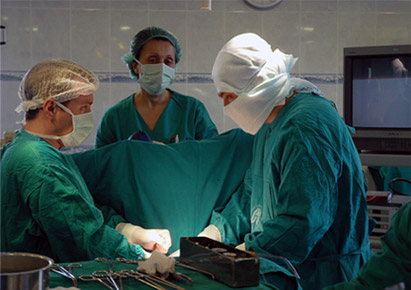 The Clinic includes the following structural units:
General Pulmonary Surgery
Chest Trauma
Chest Wall Surgery
Septic Surgery
Operating Block
Anaesthesiology Department
Intensive Care Unit (Thoracic Shock)
Oesophageal and Laparoscopic Surgery
Facilities
All surgeries are performed in two most up-to-date equipped operating rooms with available systems for video-assisted endoscopic surgery, both laparoscopic and thoracoscopic. The available modern equipment includes thermocauters, cryoanalgesia and cryosurgery instruments, LigaSure TM instrument, harmonic scalpel (ultrasound knife), and the RFA appliance for radiofrequency tumor ablation (used for bloodless removal of liver and lung metastasesThe surgical Intensive Care Unit is next door, equipped with the most up-to-date devices and patients' monitoring system, including five modern mechanical ventilators of which one is a high-frequency oscillatory ventilator (HFOV), at the moment the single one in the country, applied in critically ill or injured patients, when standard ventilators prove ineffective.
Team
The surgeons of the Chest Surgery Clinic are members of the Society on Cardiothoracic Surgery of Serbia and the European Society of Thoracic Surgeons (ESTS).The team of the Clinic has been maintaining a good professional cooperation with recognized European thoracic surgery clinics like Ruhrlandklinik in Essen, Germany. Three surgeons from the Clinic are appointed esearchers of the Swiss Oncology Group.